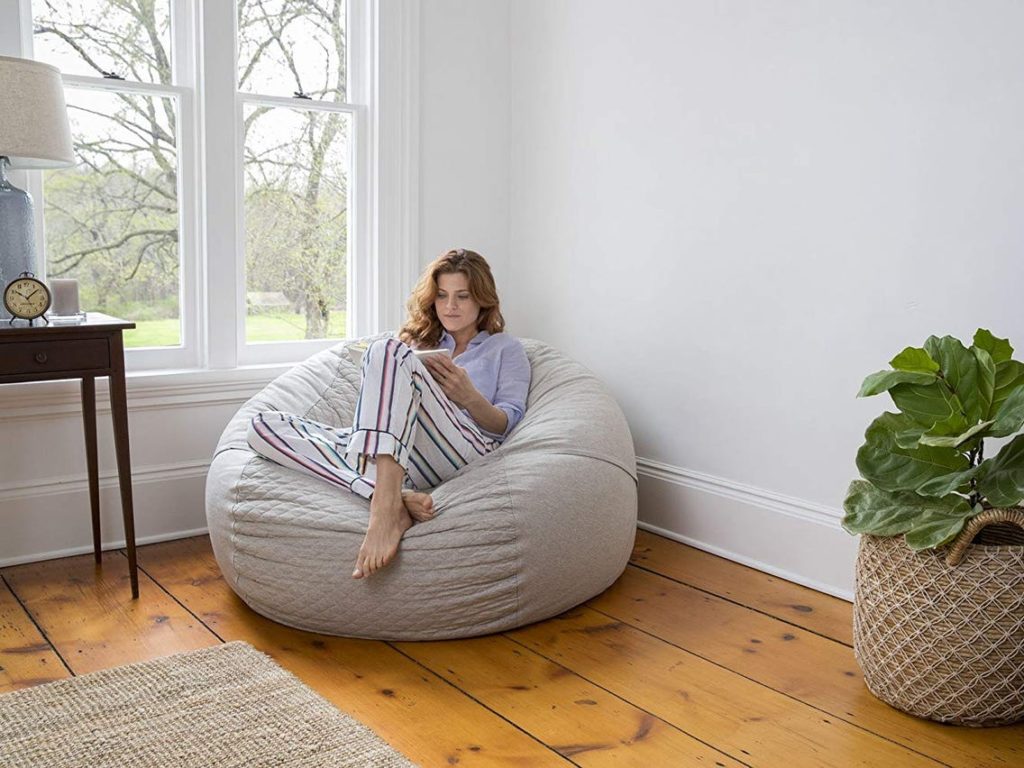 The origins of this furniture are in Turkey and the Maghreb, back in the eighteenth century. They were backless, shallow, and soft seats used in this culture to eat on the floor and be more comfortable, as they adapted to the body. In the nineteenth century, the bean bag chair was introduced into European homes as an element of comfort and decoration. At that time, they were small covered stools to hide the legs. Due to its roots, it was called the 'Ottoman seat.' However, over time the term bean bag chair became popular, a word of Arabic origin related to the armless and backless cushions, typical in oriental decoration. Yet, it could also be thought of because it is the sound produced when we sit on this comfortable armchair, generally filled with soft material covered by a rigid fabric made of leather, cotton fabric, rattan, etc.
Remember that time when you went to your school friend's house, and when you entered his room, you saw for the first time that giant round pillow lying on the floor? Do you remember the spectacular sensation of the first time you sat there? It was as if every part of your body was embraced. If it were ever possible to lie down on a cloud, that's how it would feel!
Now that you're old enough and have the money, I'm sure at some point you've been tempted to look for "bean bag chairs near me," but you haven't bought them because hey, you're not in school anymore. Well, good news, since a couple of years ago, bean bag chairs have had a resurgence. And thanks to the redesign of their exterior aesthetics and interior materials, you can see them in the rooms and studios of very young people and studios, galleries, coworking spaces, cafeterias, bookstores, and some innovative offices.
If you are still not sure about buying one, consider that this furniture has an infinite number of advantages, among them.
It can be carried effortlessly to any room where an extra seat is needed. If your house is small, don't opt for a large, upholstered bean bag chair, but instead choose small, soft, or natural fiber models that can be stored in no time.
Each room can have a different function. That's how versatile they are. In the living room, they serve as informal seating when the sofa is not working. They can be from cushions to play or places to lie down to read in the children's room. In the bathroom, it can be a support point for towels and the right place to take off your shoes, put on your moisturizer, etc.
A bean bag chair can include compartments where you can keep the TV controls or your favorite magazines at hand. Some models are like trunks because their rigid base hides a hollow interior, and their seat lifts, revealing space to put blankets, plaids, toys, etc. If you choose a bean bag chair with storage, you will have a two-for-one all-terrain vehicle.
Is your seat very lonely? Add a bean bag chair, and you will automatically have a reading corner where you can relax. The benefits of resting with your feet up to improve your legs' circulation are well known, and a good bean bag chair can help you, in this case, be a little more rigid to achieve the desired posture.
Anyway, a bean bag chair will always be useful if you know how to choose it, so now that you know some of its advantages, you can continue with your online search "bean bag chairs near me" and have it delivered to your door!