Artificial grass is the trend of modern lawns. People who are busier than before and who don't like a yard which is always green need a very little time in cleaning and saves you lots of fuss daily. Natural grass might look good, but these days not everybody can handle regular maintenance watering, cutting grass and all. Even after doing all these things, you may not get the exact look you want for your lawn. Natural grass is also prone to allergies. These are the reasons people are switching to artificial grass more these days.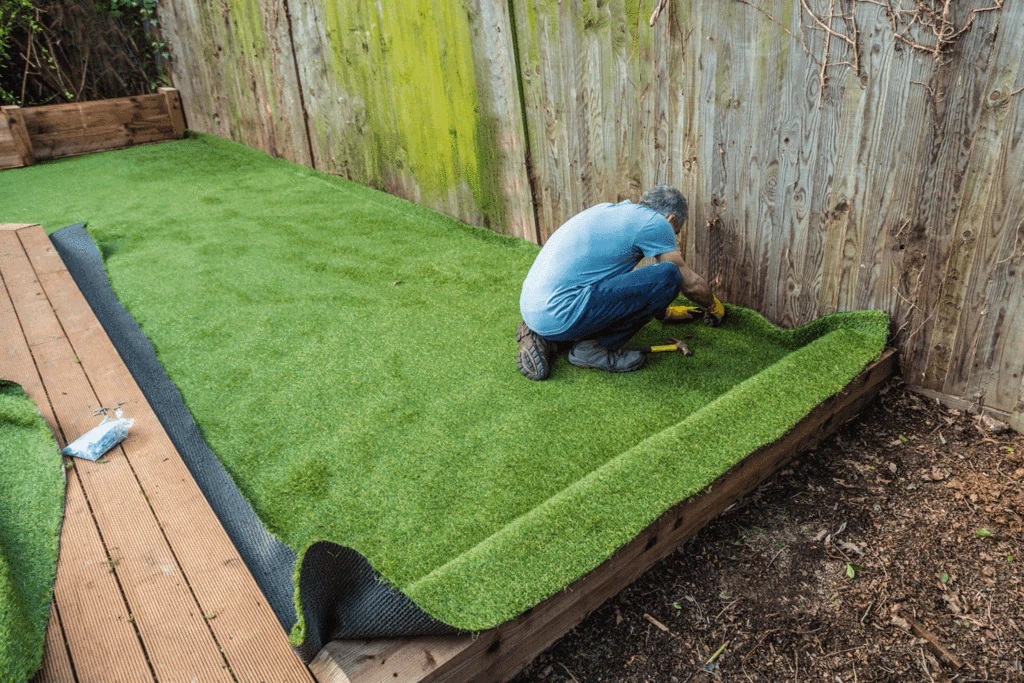 Artificial grass is available in different colors, grass size, and types. You may choose the kind which fulfils your requirements and give the ground or lawn a beautiful look. Artificial grass is something made up of synthetic fibers stitched along with primary and secondary backings. The synthetic fibers for artificial grass are made up of three different types of plastic – names are
Nylon
Polypropylene and
Polyethylene
The strength of your grass depends on the type of these materials. It also impacts your choice. Here I will be discussing Nylon artificial grass because it is the most popular and robust quality artificial grass available in the market.
More resilience: Nylon artificial grassbears more resistance than all other types of synthetic turf. The fibers of Nylon are 40 percent more resilient from polyethylene and almost 22 percent from polypropylene grass. The resilience is not because of its durable fibers it is because of its feature of higher melting point, in summer, when the temperature is high the other two types of grass. The other two may fade and turn pale while nylon grass keeps intact. The paling feature also causes weakening fibers and damage in long terms. The weakness of grass fibers means that it will not sustain heavy foot traffic.
Stronger than all: Nylon artificial grassis not only resilient, but it is also more durable than all the types of artificial grass. We may say that it is 33 percent stronger than all the other types of grass. The Nylon is a durable material that's why it is used in fishing cords and net of tennis rackets. Nylon is also a fantastic choice for making synthetic rugs and carpets. Same wise it is an excellent choice in manufacturing artificial grass. Nylon usage in artificial grass gives it a durable stand in heavy use. People walk on grass and its quite natural. Artificial grass with low quality and weaker fibers can't sustain at places with heavy foot traffic. Soon your grass fibers will flat down and might break. Once the fibers are damaged, you can't bring them back to its original shape even after brushing regularly. Due to its strength and durability Nylon artificial grass is the right choice for sports grounds and playgrounds.
Eco- friendly grass: Nylon is an environment friendly type of grass. It is recyclable and stays long. Every effort matters in saving the environment and choosing nylon grass might be one of those efforts.
Lifetime investment: There is no doubt that nylon artificial grassis more expensive than all other types of synthetic grass. However, if you are buying it for a place where you may receive lots of foot traffic in the shape of parties, kids playing around or a sports event going – then its worth paying for little on nylon grass then repairing continuously on your cheaper bought grass. Polypropylene and polyethylene fibers are not strong enough to resist heavy foot traffic and much rough use. So if you put so much traffic on them, they might not last long. Nylon is durable, weather-resistant and can bear heavy foot traffic without affecting its durability. So if you look closely, it might be the "once in lifetime investment".
Better looks for longer terms: As I have mentioned before the nylon fibers are durable and weather resilient, that's why the grass is always green when it is made up of Nylon. The fibers keep it intact, and it stays in an upright position for long years as compared to the other two types of grass.