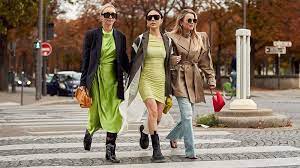 Last year was a silent year for fashion, But this year the fashion is back again with some seriously bold and stylish designs. Here are the top 5 fashion that are trending around the globe:
According to fashion designer, north Carolina based Brent Emerson, below is the list of five best fashion trends of 2021. 
Sorbets Pastel Tones
Pastel tones have continued to dominate the fashion in 2021. These sorbet inspired colours can be worn with anything of light shade. Sorbets have a large variety of pastels which can be worn by any skin tone. The varieties of the Pastel tones go from mint green broiler to soothing lavender oversized trench coats. 
Yellow Bags
For the past few weeks the yellow bags have taken over the fashion industry. This is a fashion that can be easily replicated. The Yellow bag adds the colour to your clothing's and will make you stand out from the crowd.  The yellow bag has varieties of colours like mustard yellow, lemon yellow, canary yellow and so on. They will go with shades like white, blue and even with clothes of vibrant colours. The yellow bag is the best one-sling handbag for a night out.
Pop colour checks
The pop colour checks is another fashion that is trending in 2021. This trend is a beautiful way to style up. And it also works for every season, be it summer, spring or autumn this style always works. And to complete the look a bright coloured pant and a sweater also a pastel coloured sneakers or the regular heels can be added. The thing about Pop colour checks is that you can style it up with the fashion of your choice. 
Neutral Co-Ord set
This trend had been around the corner for a while and there is a reason it is still sticking around. The neutrals are totally classics and there are a lot of ways in which you can wear it, the varieties include large buttoned blazers with long pants and a sweater or a spaghetti top with matching pants and a knee length sweater. This trend can be worn with a clutch bag of colour brown or navy blue. 
Large floral prints
If you are a floral print lover then this trend is definitely for you. Large floral prints are printed on black or white tops, skirts and pants. This fashion can be styled with mostly anything and everything. This fashion can be used to symbolise the happiness in life.
So these are some of the top fashion that has been trending in 2021. But that doesn't mean that these are the only ones there are much more fashion out there that are worth trying. So go on and make sure to try all those.
Brent Emerson from NC and he always ensures that his stores are filled with these latest fashion trends. Pick your style and follow any of the above mentioned fashion trends to look stunning and gorgeous.